Student Voices
Student Spotlight | Nadia Adni
Meet Nadia, a first year Fine Art student at Chelsea.
Her practice is primarily focused on human form and deterioration and her medium of choice is oil paints.
As a British-Algerian woman, her paintings speak on her experiences of detachment with peers and culture and navigating the world with both cultures as well as more personal works on life experiences.
"Regardez moi!" - Oil on Paper, 80x60cm

"Utilising fine reliefs of oil paint to achieve this mosaic like image, the subject gazes away from the invading glare of the viewer.
Exploring the idea of shame in eastern and Muslim cultures, "Regardez moi!" explores my personal conflict with individual faith and belief and cultural customs of female shame and modesty in regard to my own upbringing and my navigation of such throughout my adolescence."

"Phrases in Spaces" - Oil on Canvas, 90cm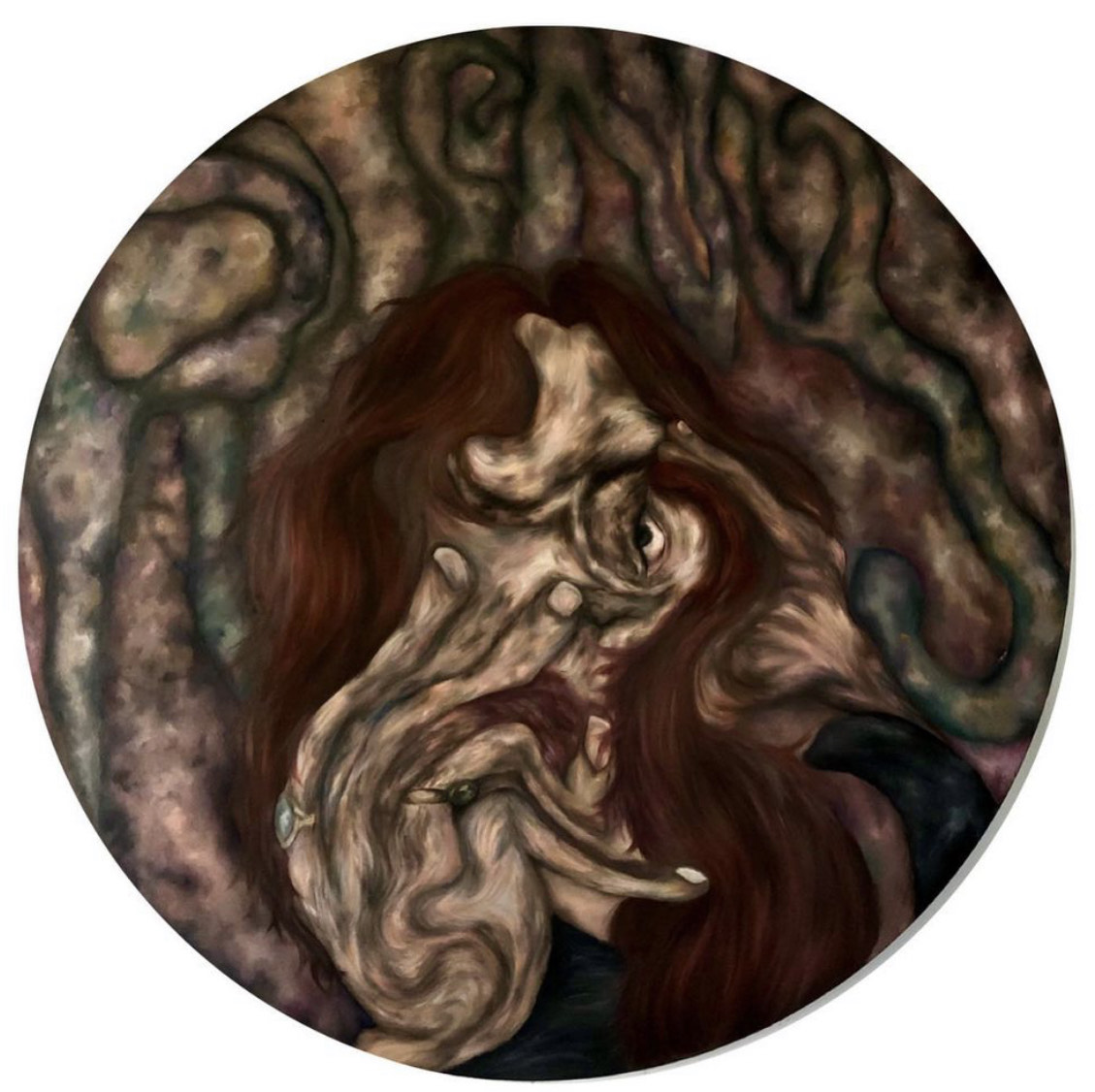 Delving into abstraction, the subject finds herself morphed into a beastial form.
Exploring body dysmorphia, the subject clenches to her face surrounded by a background representational of the inside forms of a brain with the plastered phrase of "Puny" depicting the social pressures leading to her compulsions and mental decay.

"Clench to stay awake" - Oil on Canvas, 150x100cm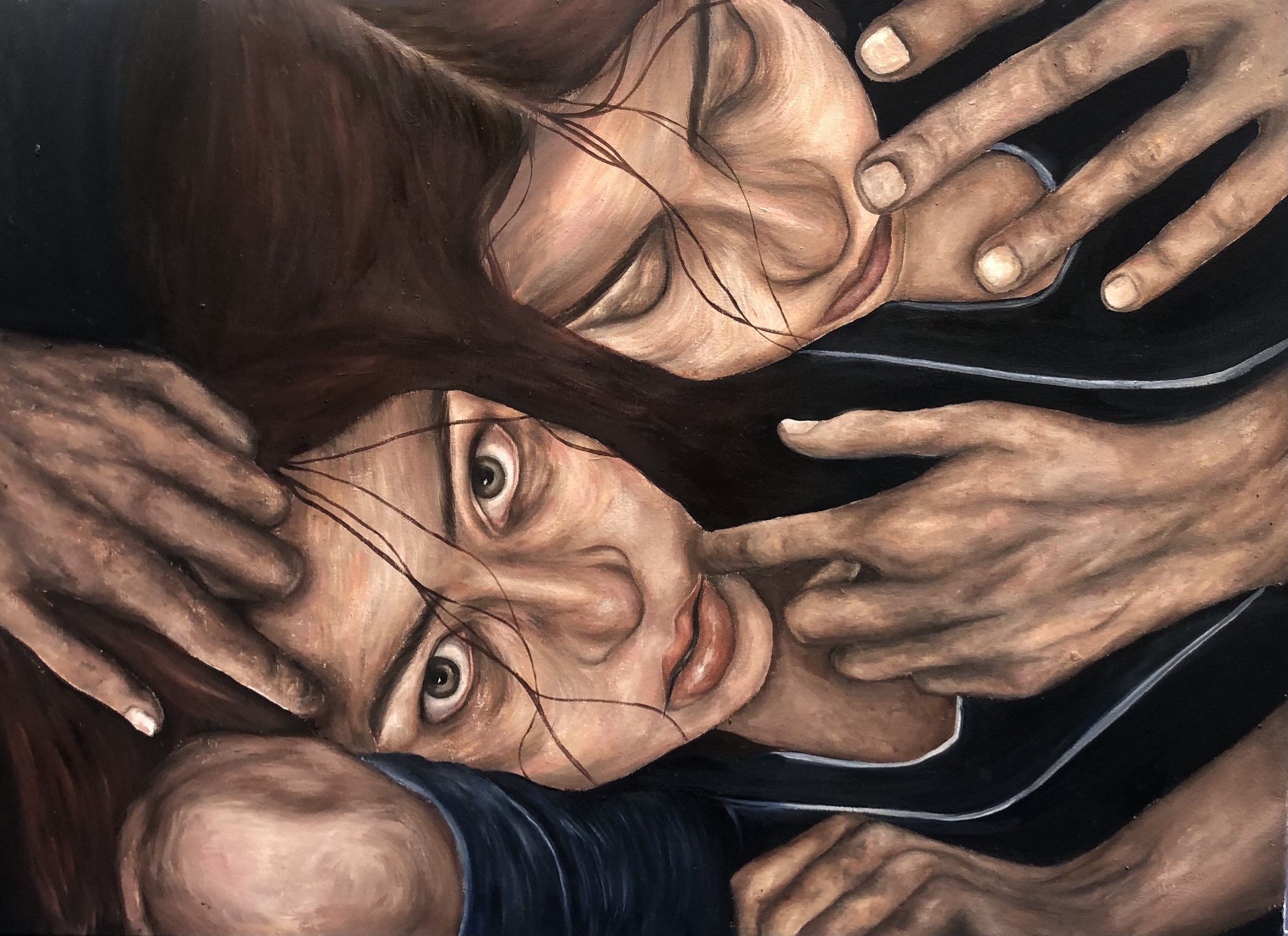 "Clench to stay awake" depicts two subjects, one with an alerted "awake" expression and the other tranquil and "asleep".
Exploring the psychological effects of sexual assault, my work explores the detriment of enduring such trauma. With hands surrounding the subject and the two states pushes together in the confines of the canvas, the subject's eyes speak to reach out.
Yet, pressed with societal taboo and convention, concealing and hiding away such trauma leads to deterioration of the sound mind shifting between both the alerted state and the derealised state.

"I am not who I am when I am A-sleep" - Photography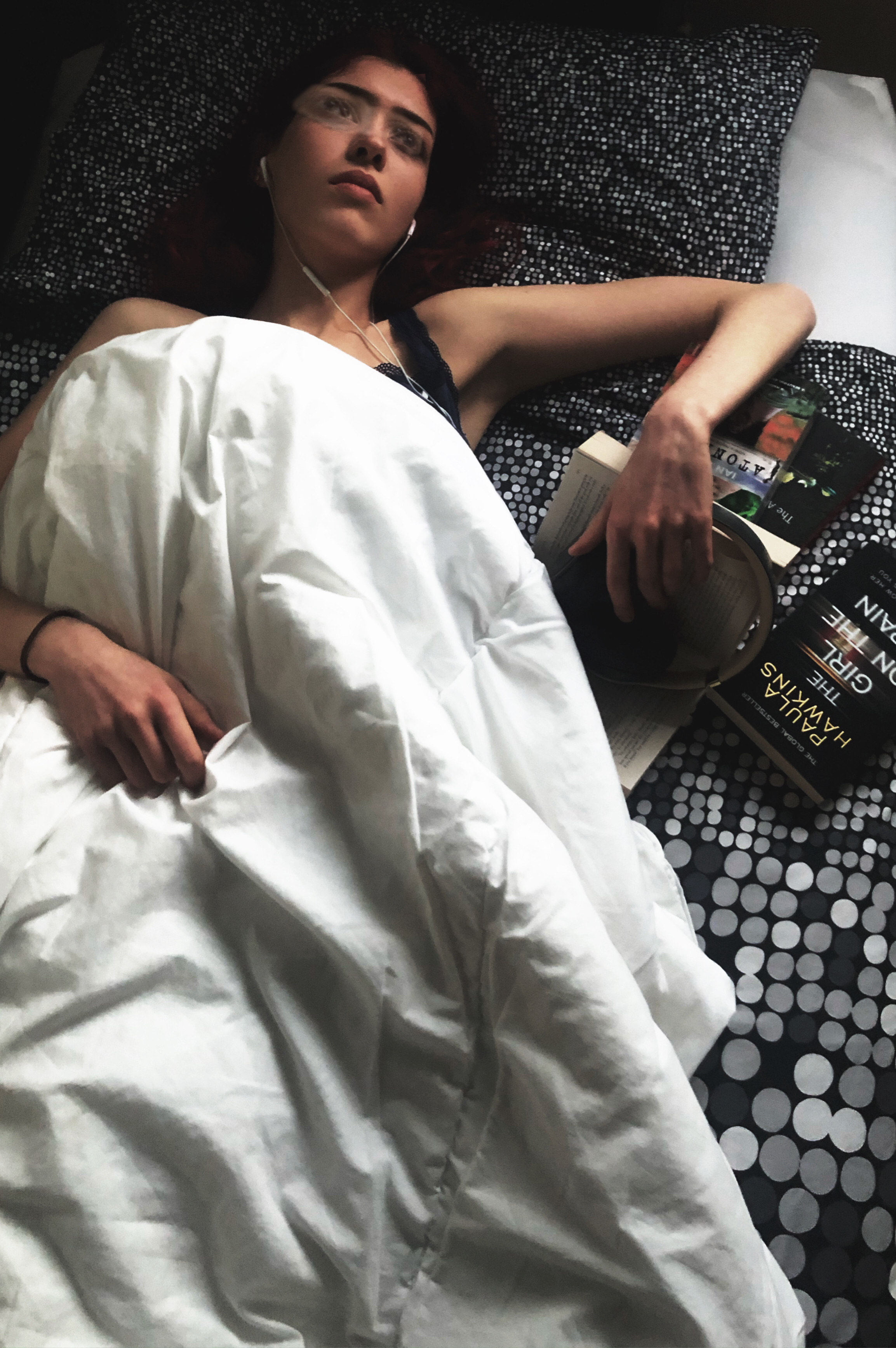 Following on from "Clench to stay awake", the subject finds herself in a microcosm of her own personal comforts as means to appease and distract from the pressing force of her abuse causing psychological deterioration depicted in the double exposure of eyes, almost plastered onto her face.

"Words on The Wall" - Oil on Canvas, 150x100cm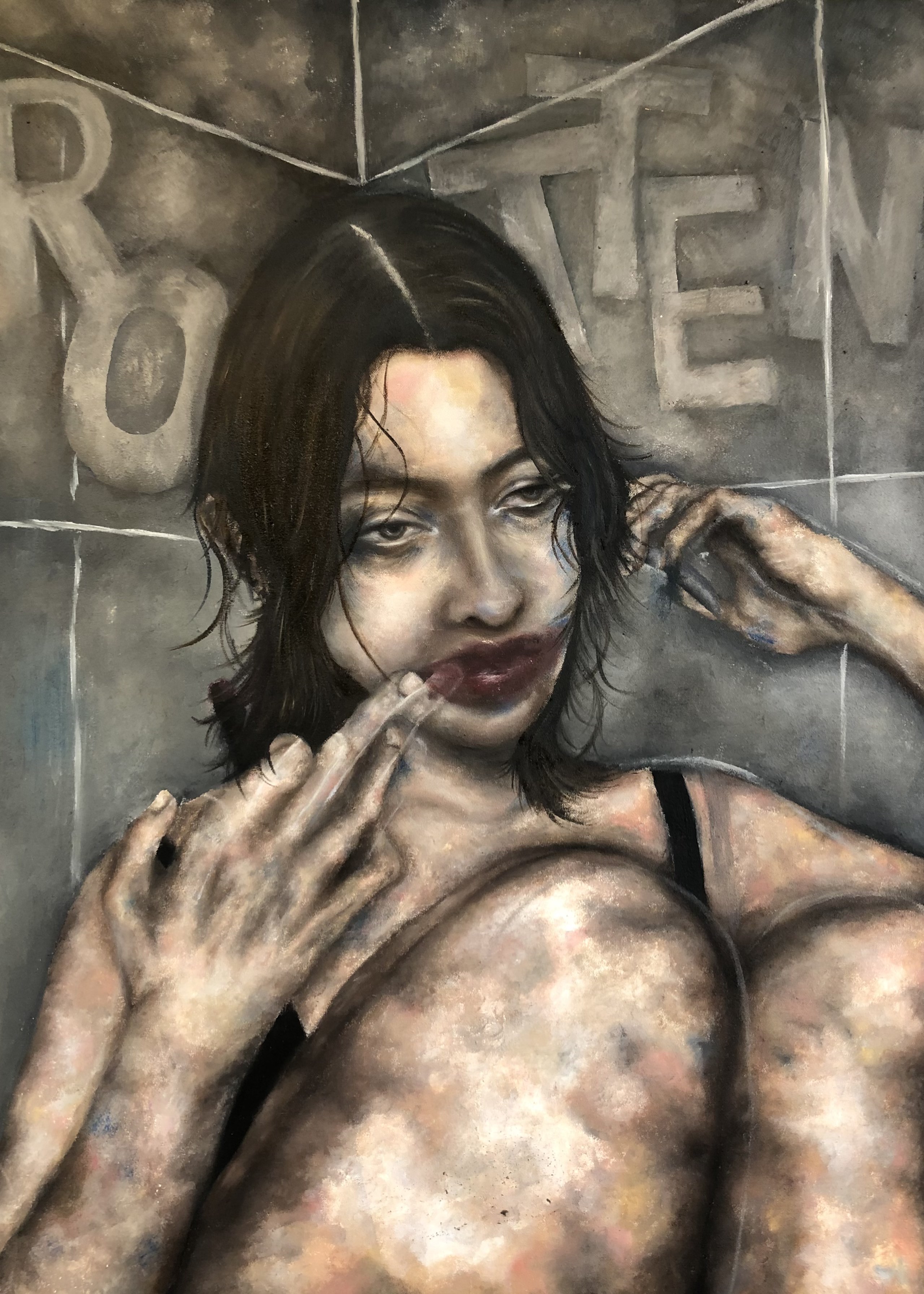 "Words on the wall" depicts its subject in a bathroom, with rough skin textures and vacant eyes.
The subject finds themselves loosing grasp on who they once were, driven by a compulsion to harm oneself and faced with the pressures of social convention, depicted through the plastering of the word "rotten" on the tiled surface.
The faint double casting overlay depicts the subject's sense of detachment and depersonalization.

"Womb" - Oil on Canvas, 150x100cm
Exploring the concealment of deterioration, the image shows a subject isolated in a metaphorical sea of self-inflicted deterioration.
Blinded by her compulsions, her hand pushes the viewer away from entering her world. With alerted eyes and a spiraled hand, she slowly loses grasp of reality, falling deeper and deeper into herself, isolated from a world away from her own suffering.

If you want to follow Nadia or check more of her work, make sure to follow her Instagram @nadia.adni.art.
Do you have a story to tell, or are you working on a project that you'd like to share? Our Student Spotlight series is just the place for you! For more information, DM us (@UAL_HallsLife) on Instagram. We'd love to hear from you!
Topics