Food
Behind the beans: an interview with Extract Coffee Roasters
From Bristol to BaxterStorey, we got the inside scoop from the brains behind the brews at our favourite coffee roasters ☕️
We sat down with Regional Manager, Andy and Head Roaster, Tommy to talk all things coffee!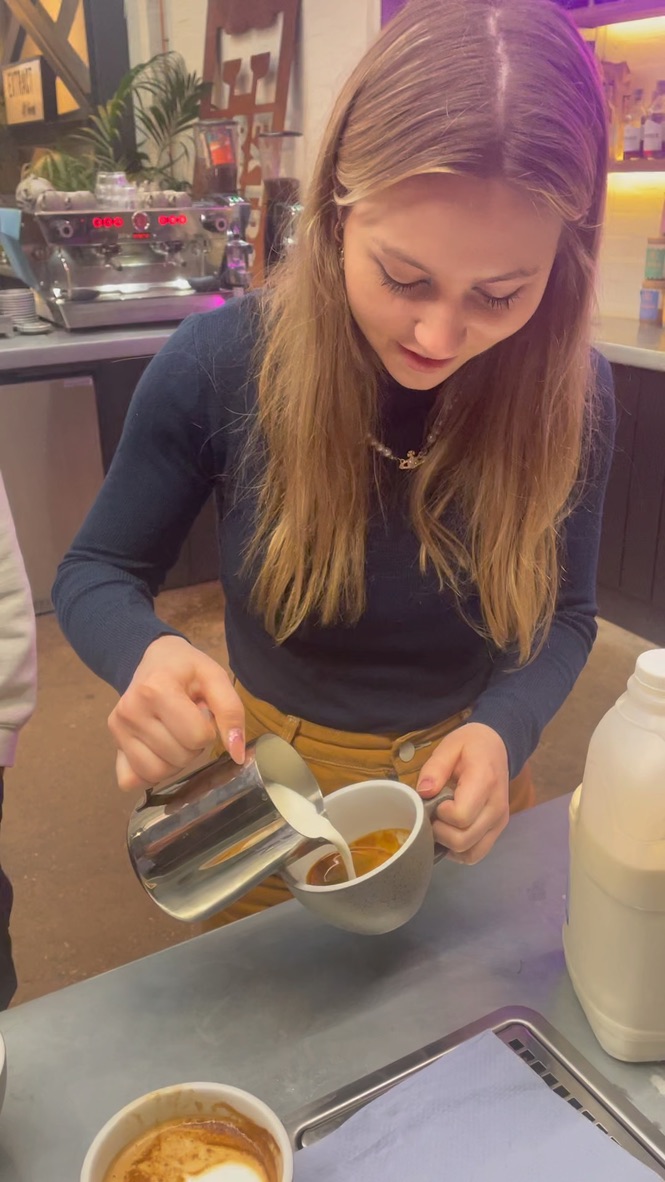 Tell us a bit about the story behind Extract! Where did it all begin?
ANDY: So, Extract was started by a brother and a sister and a best mate over in New Zealand. New Zealand have a really vibrant coffee scene based around having small little roasters in their own cafe's which meant all the baristas were buying and roasting their own coffee and telling all their customers about it because they were super passionate. While over in Europe, dark roast coffee was the most popular thing and the coffee culture was more around just having a cup of brown water than helps you get on with your day- rather than sitting and taking a moment to enjoy. There was a gap in the market at the time (15 years ago), and a bunch of roasters actually did the same thing coming to the UK so within 2 years the speciality scene popped up.
They chose Bristol based on friends' recommendations and a little bit of love for drum and bass as well! So, this is where they set up shop, they bought a roaster over here had to put it in a shed which is where they started the business from, roasting coffee in a shed and selling it from the bottom of park street. People loved the coffee they were having from that little truck and there was a point where they were roasting all night and all day to keep up with demand, so they realised they had to grow. So, they looked into the second hand coffee market where they starting finding old coffee roasters and restoring them so they could be used.
What's your core mission at Extract?
ANDY: Our core mission at Extract is to make coffee better. Better for the farmers through better and ethical sourcing practices. Better for the cafe owner, using our experience in hospitality to give tips on how to improve their cafe. Training baristas to make the coffee better. And also to the home user to share knowledge on how to make a better cup at home.
What is a typical day for you at the roastery?
TOMMY: Funnily enough starts with coffee, the guys always put a batch brew on so it's a communal thing everyone grabs a cup and chats about the coffee which is a great opportunity to put something new in the brew, not tell anyone about it and get some honest opinions. We then come to the Roastery floor to prep bags ready for the day, every day is different we have a schedule we try and keep to that we're always reacting to, with orders and other things. When the coffee comes out we start packing it, which is a mixture of packing on the automated machine or packing things by hand. It dictates on what's needed. End of day we pack everything down, get things ready for moving to our logistics warehouse, everything that's packed gets palletised and labelled ready to go to the chain or customer.
How did you get into roasting coffee?
TOMMY: I got into roasting coffee by spending a lot of time in Canada, mainly Toronto. It was the first time I'd ever heard of a cafe roastery, I was going to loads of coffee shops with my cousin who's really cool and arty, showing me the cool places in Toronto. I met a few coffee roasters and I was interested so went ahead and googled everything. When I was looking for a new job I thought, maybe I could do that! So that's pretty much where it started.
I came to Extract because my housemate at the time was a chef at the Fat Duck which is back home in Berkshire- they were using Extract in 2013/14 and they put me in touch with one of the founders. It turns out we share experiences in the town I'm from as he was a chef around the area, so randomly we had loads in common and it all started from there.
What is your main piece of advice concerning how we can make more sustainable choices with our coffee?
ANDY: I think it's about how the farmers themselves are supported by our aide of the industry as well. Paying the bare minimum for coffee is necessarily the best business practice. What we do at Extract is work on a direct trade model, which is about having a long-term relationship with those farmers. Coaching them into making coffee better for our consumers, and also making sure they're paid correctly. If we're trying to get coffee at the bottom dollar it's going to make their lives easier and they're more likely to switch over to an easier crop to go, then we'll be one less speciality coffee farmer in the world. Excellent coffee will become more difficult to come by.
What is your secret to the perfect cup of coffee?
ANDY: The best tip for making a good cup of coffee is using filtered water! A lot of what makes a coffee taste unique and like where its actually from, is the acidity in there which is cancelled out by the limescale in tap water. Filter your water and your coffee will taste better, I promise.
Now you've read all about the perfect cup of coffee by the professionals, head to our cafés to give it a try yourself! 
Topics