Food
Sustainability at UAL
It's more important than ever to take care of our planet
We consider the environmental impact throughout your entire dining experience at UAL. From sourcing the ingredients we use in our cafés and canteens to how you dine, we try our hardest to make sure we have a significant environmental impact across all of our campuses.
And here's how we do it...
1. Sustainable produce
All of our suppliers are right around the corner, which means that the produce we use on campus is fresh and straight from the farm. In turn, our carbon footprint is barely visible!
For example, all of our eggs are organic and free range, locally sourced, lion stamped and RSPCA farm assured; our fish dishes are all sourced sustainably from 'MJSeafood' Arctic catch and MSC certified; and our delicious handmade bakes are made with regenerative flour that helps to restore the ecosystem through an innovative farming system.
With less artificial input, less packaging and less food milage, not only do we support local businesses but we make sure that the food quality is excellent, encourage sustainable farming and sourcing as well as reduce carbon emissions from transportation.
So you can enjoy a meal at university whilst knowing that you're lending a helping hand in making a positive impact on the environment.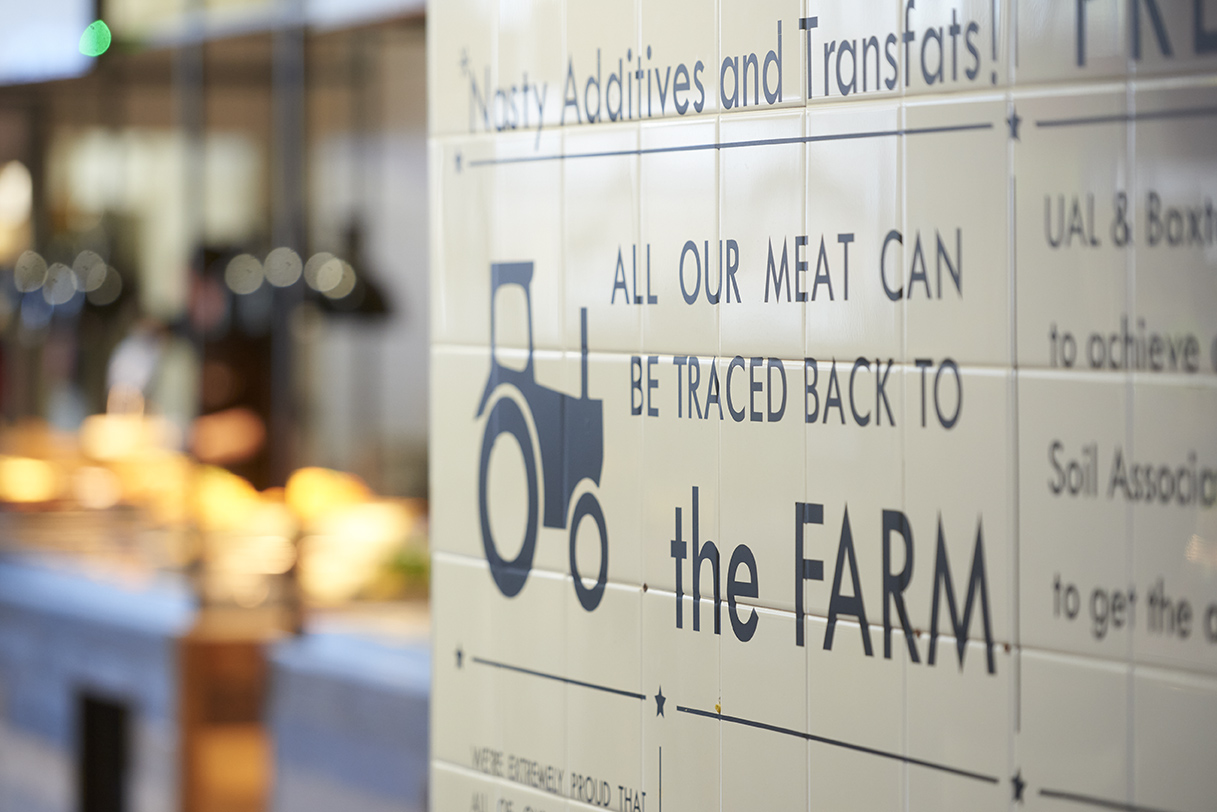 2. Zero waste to landfill
Did you know that since 2014 zero waste on our campuses has gone to landfill and 100% of our kitchen food waste is turned into renewable energy? How cool!
And since January 2021, we have even recycled 2,464 litres of cooking oil into biodiesel with the help of Ollecco. This is the same amount of carbon produced by 234 trees in a year.
That's more than £1 billion worth of fruit and veg. We don't like things going to waste at UAL, which is why we partner with companies like Waste Knot to rescue wonky veg from farmer's fields and make the most of them in our menus and salad bars.
Everything matters in our kitchens.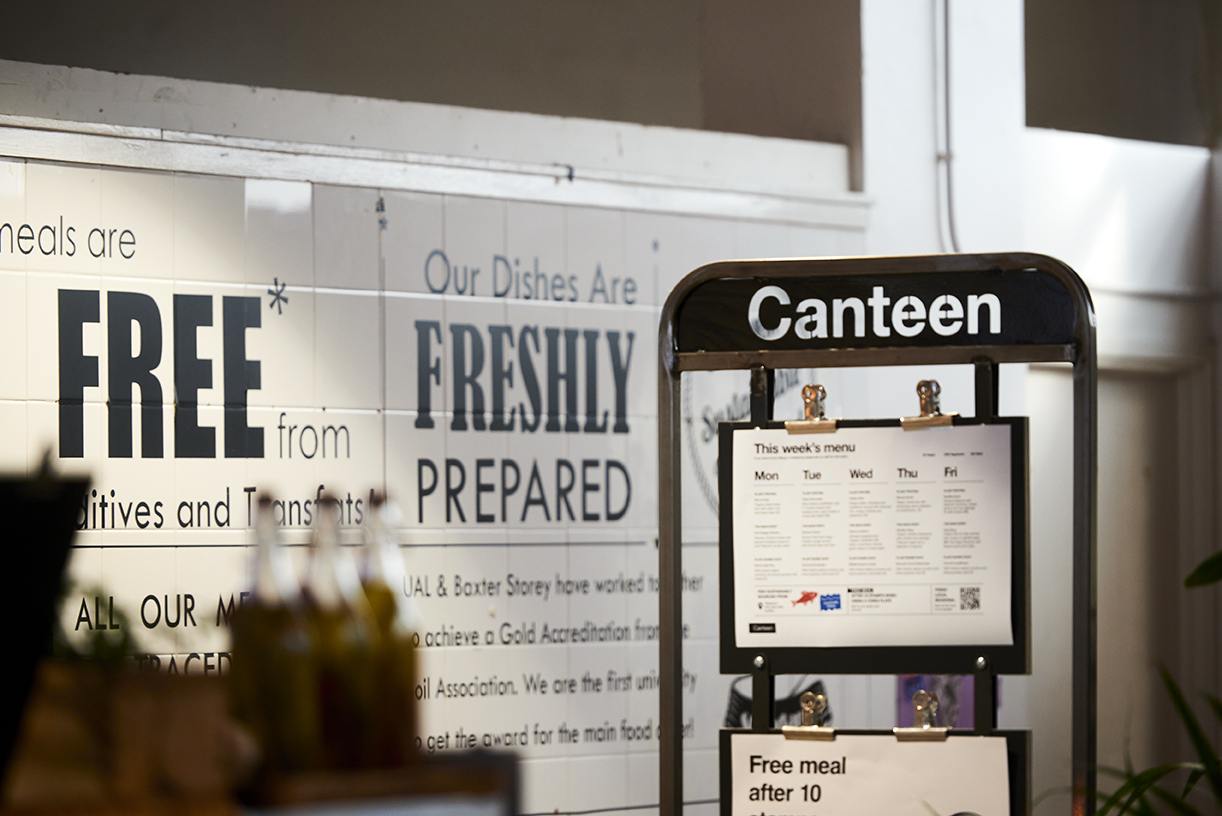 3. Reuse, Refill, Upcycle
From compostable napkins and paper straws to biodegradable and recyclable takeaway boxes, we do our best to make sure that anything you could need in our canteens and cafés are environmentally-friendly.
We encourage all of our students to dine and drink sustainably by offering a range of loyalty cards with great rewards. You can find these at all of our canteens and cafés, build up stamps by using our Keep Cups, bringing your own reusable food container and using our china plates and metal cutlery to get a free coffee or meal.
All of our vegan Lemon-aid+ and ChariTea soft drink bottles (which are Fairtrade certified) can also be reused at home. All you have to do is give them a wash and fill them with washing up liquid, shampoo, hand wash and more! Don't worry, we also do our bit to make sure the bottles go as far as possible by reusing them for condiments, spices and oils which you can spot around our canteens.
4. Further than food
It's not just the food that we care about, we also make sure that recycled and upcycled materials are used to actually make parts of our cafés and canteens. We have worked with FSC Wood and Smile Plastics to create bespoke and sustainable furniture for our outlets to promote responsible forestry and change perceptions on waste through innovation.
We follow the same principles in believing that waste can be turned into beauty. So across our colleges, keep your eye out for our counters made from reclaimed wood, FSC wood and even waste yoghurt pots.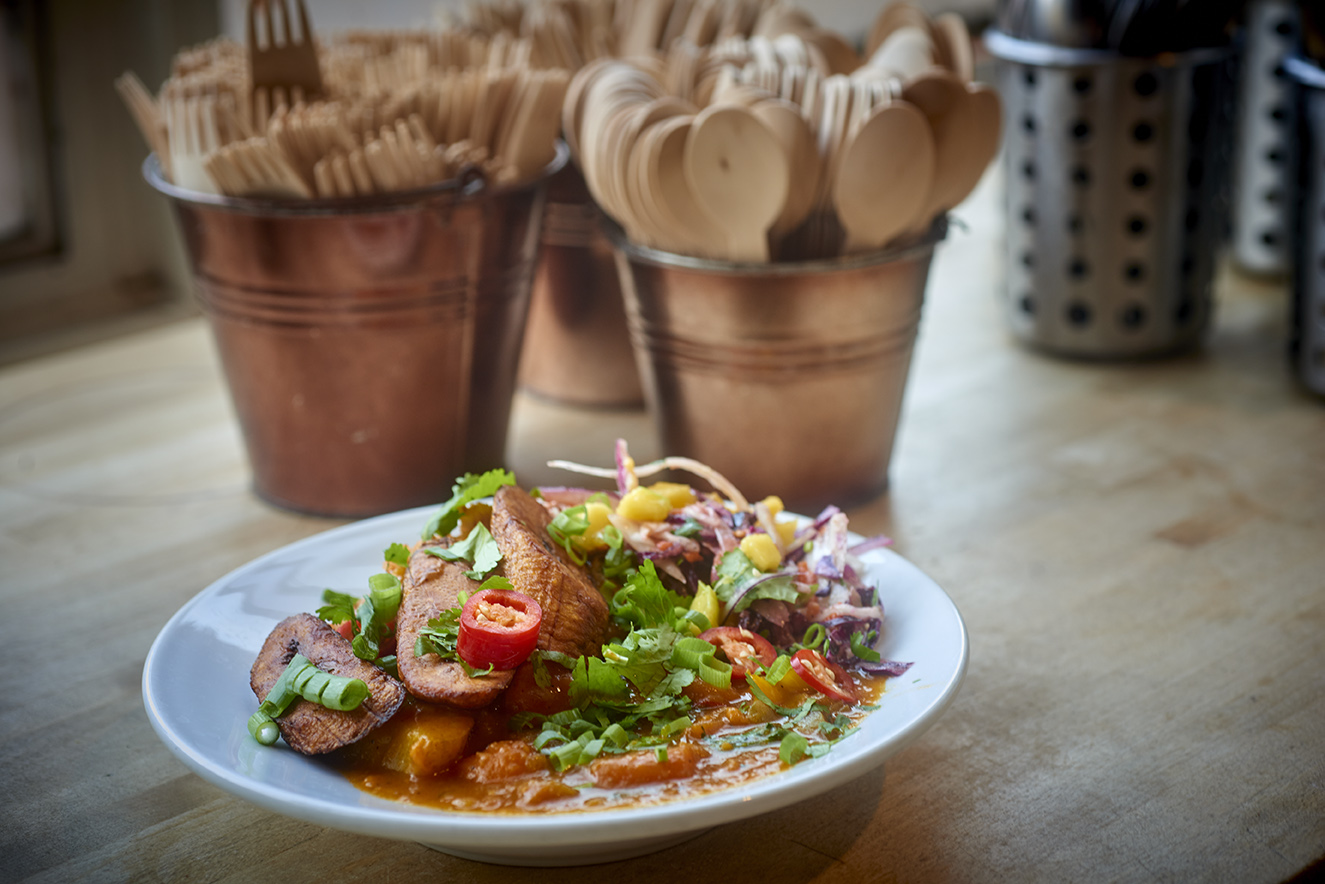 We would love for you to be a part of our sustainable journey, so join us in making small changes to produce a huge impact!
Topics