Accommodation
Spending lockdown in halls
I'm Jade, a first year Central Saint Martin's student. Throughout lockdown I've been living in Sketch House in Finsbury Park. I decided to stay in halls during the Coronavirus pandemic due to all the uncertainty and this is my experience of living here so far.

Occupying a small shared space in London always has its challenges, the lockdown has in some ways further exacerbated the challenges but also allowed us to gain rewarding experiences. Working, socialising, cooking and cleaning all within the confines of a student dormitory flat has transformed the space itself as well as how we interact with it. Luckily three of the my original six flatmates are still living here so being lonely is not as much of an issue compared to others.
From normally spending a few hours per day with each other to 24/7 constant contact without classes or meeting friends, we have had to think of some new modes of coexistence before we go crazy. Whilst some have thrown themselves into being productive, the others like me have done everything to procrastinate on our work. So far, I have done a Social Programme event every day (Bam Bam being a favourite), cooked roast dinners, baked lemon cheesecakes and brownies, and fallen into a never ending pit of nostalgic films.

As much as there is a desire to be productive, to learn new skills, to pick up another language or whatever else, there is also the worry of putting too much pressure on ourselves. As students and human beings in general, there is a tendency to overthink and fear the uncertainty of the current situation.
Doing online events such as the energy healing with Julie has made me realise that we can't expect ourselves to behave and work normally in a situation that is far from normal. It is okay to struggle doing what we would normally do. Struggling does not suggest weakness. From doing these online events I notice that it isn't just me and my flatmates feeling like this, there is a whole community of UAL students and staff feeling the same way. We all are trying to channel our feelings, whether it is through mindfulness or high energy exercise dances. No matter the event, it is a comfort to feel connected to a larger world outside of my small current environment.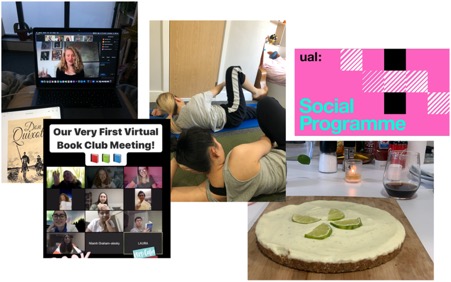 If you are a current student and want to get involved in the virtual Social Programme, click here to discover the upcoming events this month.
Topics