Lifestyle
7 London venues recommended by LGBTQ+ people
It's LGBTQ+ History Month this February, and we're kicking it off with some great places that you need to visit. Whether you want to dress up and party all night, take part in diverse workshops, or simply learn more, we've got you! 
Here are our seven recommendations of places you may love: 
The Glasshouse London project is a new LGBTQ+ multi-disciplinary venue that has three main spaces. These include:
Common Counter – a restaurant and bar that serves delicious cocktails and mocktails made with fresh produce. They have events and Happy Hour too!
The Common Press – a book chop café, located in Shoreditch that represents queer and marginalised communities. This is a space to socialise over a good book and good coffee.
The Commons – a multimedia events space that hosts a range of gatherings such as performances, art exhibitions, live music and workshops!
As one of London's newest hotspots, Zodiac Bar London is the new place to be! Being a queer owned and managed venue, Zodiac has a mission to create a safe and inclusive space for all. It is open six nights a week and is located in Euston.
If you're thinking of heading over there, you're in luck! The bar is hosting a FREE UAL exclusive club night on Thursday 3 March featuring a cabaret show! Find out more and book your space here.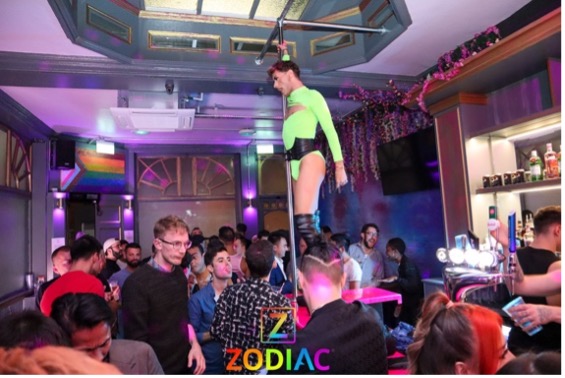 Located on Kingston Road, The Glory is an East End Pub and LGBTQ+ performance venue. This pub also has a disco basement for you to enjoy drag shows, live music, and performances throughout the week. With shows from new and upcoming performers who are fresh on the scene, it has given people a space and community to explore their art.
Not a night out but just as exciting, Great Britain's first LGBTQ+ museum finally has its new space! Lucky for some of you, it's located in Granary Square, right near the UAL Central Saint Martin's campus! They are using the space to support Queer Britain to show what they can do and aim to tell many diverse histories. The museum space itself opens this Spring, so keep an eye out, it promises to be an essential destination!
Bishopsgate Institute is a cultural institute at is a space that hosts a huge archive of LGBTQ+ history and media, where you can learn more. You can find it right near Liverpool Street station.
As the only lesbian bar in all of London, SheBar is buzzing with the glamour of Soho. Located downstairs from Little Ku, the venue is 'dedicated to queer women, non-binary folk, and their guests.
And last but definitely not least, get your microphones ready! The Karaoke Hole is an East London bar that hosts queer nights performed by some of London's finest drag stars! It is also a great space to enjoy a night of karaoke and performances. 💃

If you do go to any of these spaces, don't forget to invite us 👀. Let us know how it was by tagging us (@ualsocial) on Instagram!
Topics