Lifestyle
5 of the most Instagrammable vegetarian breakfasts
During the first lockdown, my flatmate and I found that making fancy breakfasts/ brunches together was the easiest and most delicious way to start our days. Especially when we found ourselves locked away in our rooms on Zoom calls most of the day.


We love to try new things and be creative with our cooking but we don't really like following recipes. Instead, we take inspiration from things we've had in the past and the leftovers in our fridge. We also like to take advantage of the offers at our local supermarket. 
 In this article, you can check out some of the yummy, Instagrammable breakfasts we made during lockdown. I hope that our creations inspire you to fling open your fridge and maybe even collaborate with your flatmates.
*Disclaimer* we don't eat like kings every day, these are just some days where we put extra effort in.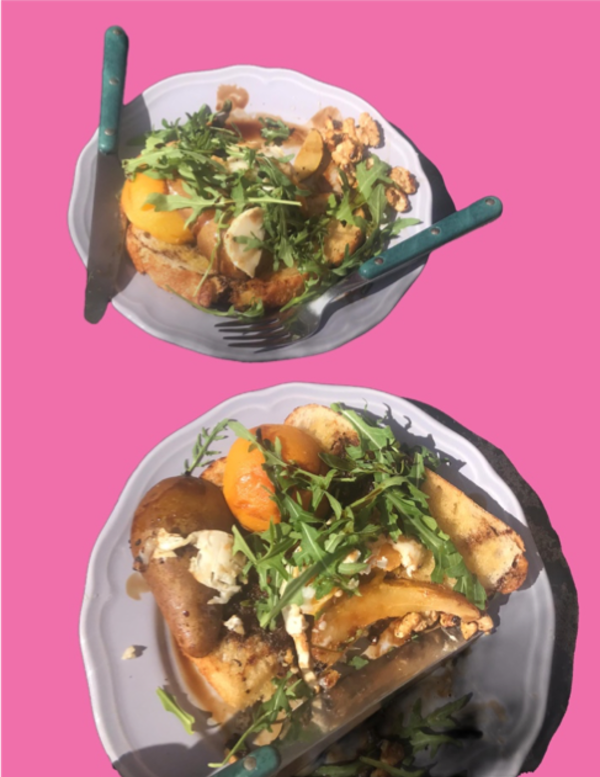 1. Grilled peaches and pear slices on sourdough bread with balsamic vinegar and goats cheese, topped with toasted walnuts and rocket.
We cover the bread in butter on both sides and lightly toast/griddle it in a pan- the fluffier the bread the better. Then, all you need to do is tumble all of the other bits on top and tuck in.
We ate this one in the tiny sun spot on our front step and felt very glamorous.
What to make it too? Get experimental just like us or, follow a similar recipe.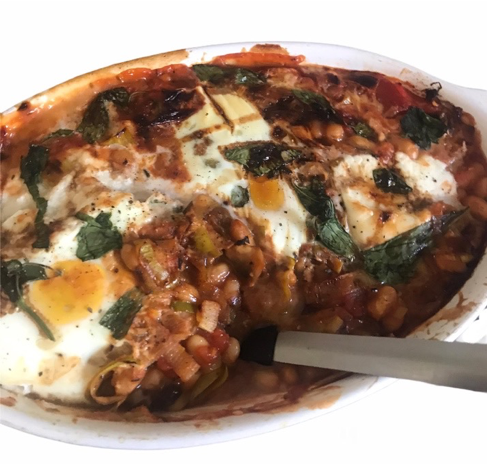 2. Shakshuka
Next up is a dish we make different literally every time we make it and I'm *1000% sure* that we are probably doing it wrong: Shakshuka.
Shakshuka is an amazing dish originating from Israel, it features poached eggs in a hearty, spiced tomato and pepper sauce but we often add whatever we have in the fridge to change it up. This time we added some beans, basil, mozzarella and leeks into the mix.
We love to eat this with crusty bread smothered in avocado or toast rubbed with garlic. Check out this recipe to give it a go.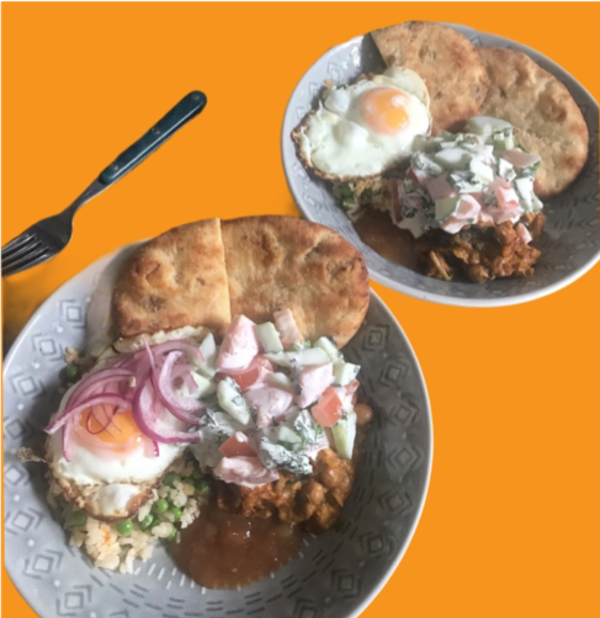 3. Putting an egg onto leftover curry to make it breakfast.
This one is my favourite. All you need is some leftover curry and a fried egg. I know it sounds strange but we promise it tastes so good.
Why not make quick homemade raita to go with it? Pair it with some of Lidl's own mango chutney and you have the perfect breakfast.


4. Tofu scramble with 'meaty mushrooms' on an English muffin with buttery lemony greens.
This one's vegan!
Tofu scramble is imitation eggs and is so delicious. You will only need a few ingredients and they take less than 10 minutes to make.
For the mushrooms, we dry fried them (without oil) with BBQ flavouring pepper and liquid smoke. 
Then we fried the greens with chilli, lemon, coriander and assembled everything together on some buttered English muffins.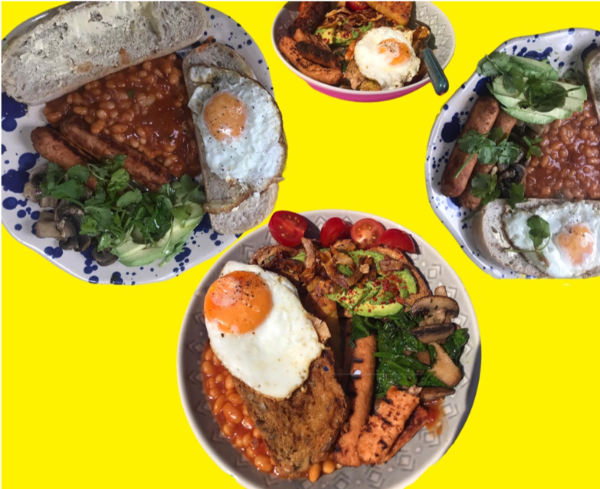 5. A twist on the classic, full English breakfast
We usually mix it up depending on what we have in the fridge. Here are some of our favourite ingredients:
Vegetarian sausages, hash browns, wilted spinach, mushrooms, avocado, toast, beans, coconut bacon*, tomatoes and fried eggs. Sometimes we will also fry up extra veg we have in the fridge like peppers or sweetcorn. Basically, anything is breakfast if you put an egg on it!
*To make coconut bacon pour soy sauce, liquid smoke, oil nutritional yeast powder and spices onto coconut flakes and fry!


A special shoutout to my breakfast partner Tegan.
Topics