Quite often if you're a student no one really expects big gifts from you and understandably you'll be on a bit of a budget. But this doesn't need to stop you from giving something this Christmas! We've made a list of Christmas gift ideas to help you out.
To start with a really good way to save yourself and your friends' money is by agreeing to a Secret Santa. Don't know what a Secret Santa is? It's basically when a group of 3 or more people, (the more the merrier), write their names on a piece of paper and put it into a hat, then each person draws a name from the hat and agrees to buy that person a present… the fun part is that it's a secret, so no one knows who's getting a present from who.
How are your culinary skills? If you're confident in the kitchen you can make some seasonal pastries for your friends? Check out this website for some delicious ideas.
Into crocheting or want to start learning? You can get the materials really cheap and you can make great personalised presents. Perhaps a tea cosy? Check out these patterns.
Check out the items in Tiger, there's something for everyone in this weird and wonderful store. You'll find plenty under £5!
If you're an artist then you should definitely save yourself the money buying Christmas cards. Get creative and make your own personalised Christmas cards for your friends. Check out these ones.
Personalised gifts are sometimes the most memorable. Buy a set of plain white mugs and some ceramic marker pens and get creative. You can sort all your friends presents out in one go.
Students appreciate something useful, why not buy a basil plant and pot it in that Christmas mug you got last year?
Check out some old bookshops, if you've got a friend who loves to read they'll definitely appreciate a good book. London has plenty of old and interesting bookshops check out some of these.
Charity shopping! Hunt around those charity shops on your high street and you'll be surprised at what you might find. You won't be disappointed with the bargains. Here's a list of some of the best in London.
So you're probably coming to the end of your loan, don't worry everyone else probably is. There's still one last thing you can do… IOU. Perhaps you can treat your friends to a cooked dinner made by you? Or a day out around London? You don't always have to buy something; sometimes just giving someone your time is enough of a present.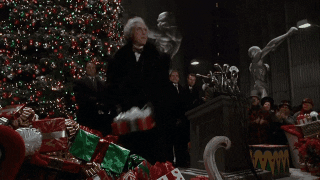 Image: Flickr